Duvet Cover Buying Guide
Choose the right Duvet Cover for you
A duvet cover not only keeps your duvet clean - it adds a touch of your own personal style to your room and it also ensures your warmth and comfort through the night. A bedroom should be a place in which you can relax easily, and choosing the right duvet cover should contribute to this. There are many different types of duvet covers to choose from. There are so many different styles and fabrics. When decorating a room, many people start with the duvet cover. With so many fantastic styles to choose from, many people find the best place to start with is their bed where they will spend the most time. When choosing a duvet cover, think about how it will tie in with the rest of the room - do you like floral patterns, do you want your curtains, accessories and blankets to be colour coordinated, or do you want to mix and match. Ask yourself do you like to be cool or warm at night - the answer should reflect the duvet cover material you choose.
Sizes
Your duvet cover needs to fit your duvet snugly to ensure both a good night's sleep and a good look. Have the dimensions of your duvet with you while you are looking for your duvet cover - our duvet covers will more than likely match the duvet you have.
| Bed Size | Dimensions |
| --- | --- |
| Single (3ft)" | 135cm x 200cm |
| Double (4ft 6in) | 200cm x 200cm |
| King (5ft) | 230cm x 220cm |
| Super King | 260cm x 220cm |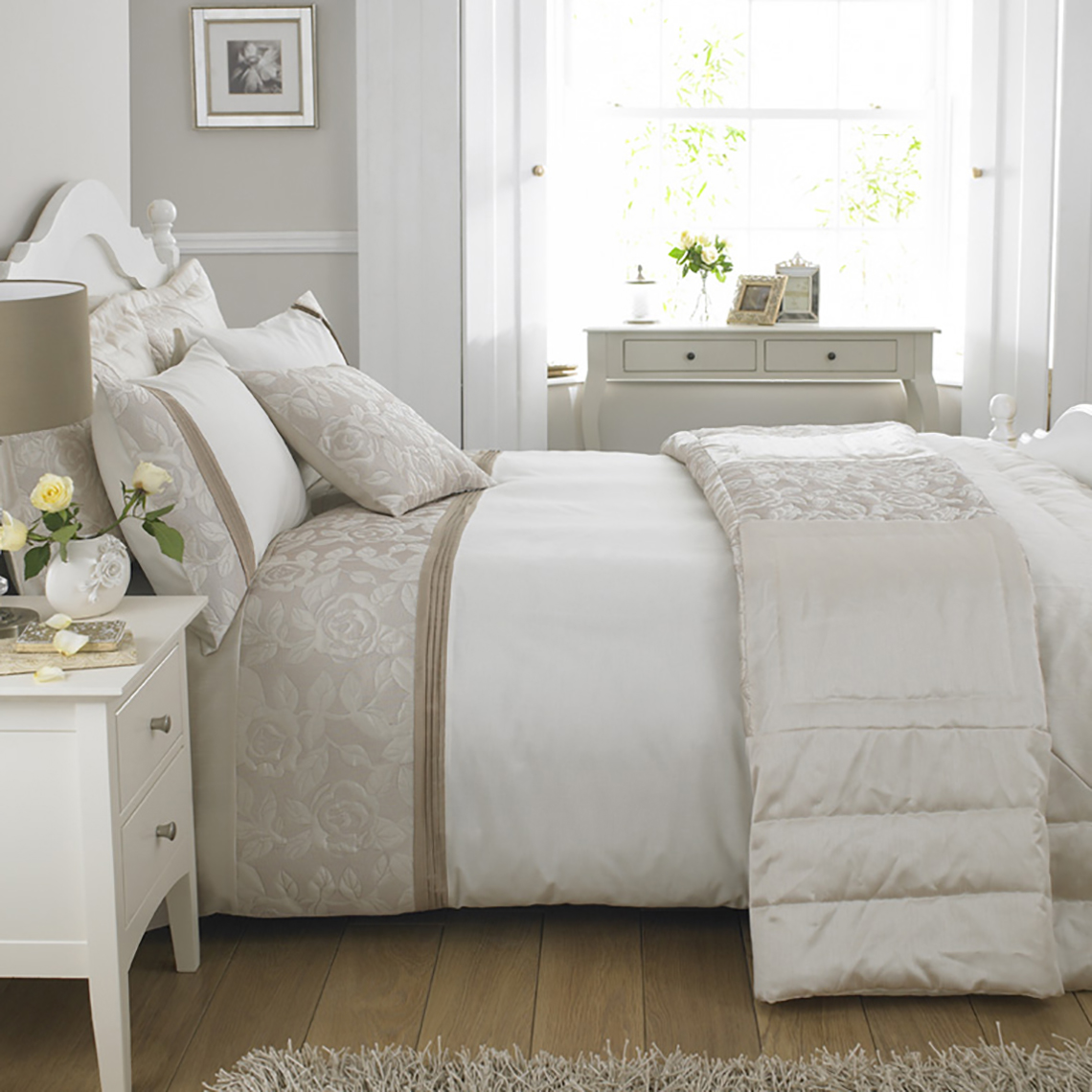 Types of Materials
Your duvet cover material needs to reflect the way you sleep at night - if you tend to get cold, then maybe a polyester material would suit you best. If you tend to get warm during the night, a breathable fabric such as cotton will suit you. Or, if your body temperature varies during the night, then a polycotton material will be what you're looking for.
Polyester - Silky to touch, a polyester duvet cover retains heat so is a good choice for someone who likes to be kept warm at night. It is very easy to care for and it is machine washable or dry cleanable, unless otherwise stated on the manufacturer instructions.
Cotton - Soft and comfortable on the skin, a cotton duvet cover consists of a breathable fabric that keeps you warm if you are cool and vice versa. It is very easy to care for and is machine washable, unless otherwise stated on the manufacturer instructions.
Polycotton - When polyester and cotton are combined, the result is a strong, durable material that still remains soft and silky. The blend is designed to forge both advantages of cotton and polyester into one, giving you a breathable, warm duvet cover. Cotton combined with polyester is less prone to pilling and static. It is very easy to care for and is machine washable, unless otherwise stated on the manufacturer
Polyester Sateen - When polyester and satin are combined, the results is a durable, glossy and silky duvet cover. Less expensive than satin, a polyester sateen duvet cover gives off a sheen that makes any room look stylish and elegant. It is very easy to care for and is machine washable, unless otherwise stated on the manufacturer's instructions.
Styles
Applique - Applique refers to designs or patterns being sewn onto the fabric of a duvet cover, giving the duvet a fun and charming look. It can brighten up a bedroom by adding a detailed and chic feel.
Embroidered - an embroidered duvet cover has a design or pattern stitched into the fabric to give it a decorative, delicate and intricate look. Embroidered fabrics add an elegant feel to any room.
Printed - refers to a colour, design, picture or pattern being printed directly onto the fabric.
Quilted - A quilted duvet cover is one which is enforced with warmth as layers of padding are enclosed between layers of fabric and kept in pace by lines of stitching. This adds a cosy touch to any room.
Seersucker - This is a duvet cover made from a lightweight woven material that gives a puckered, crinkled appearance. This type of duvet cover is soft and breathable, adding a summery feel all year round to your bedroom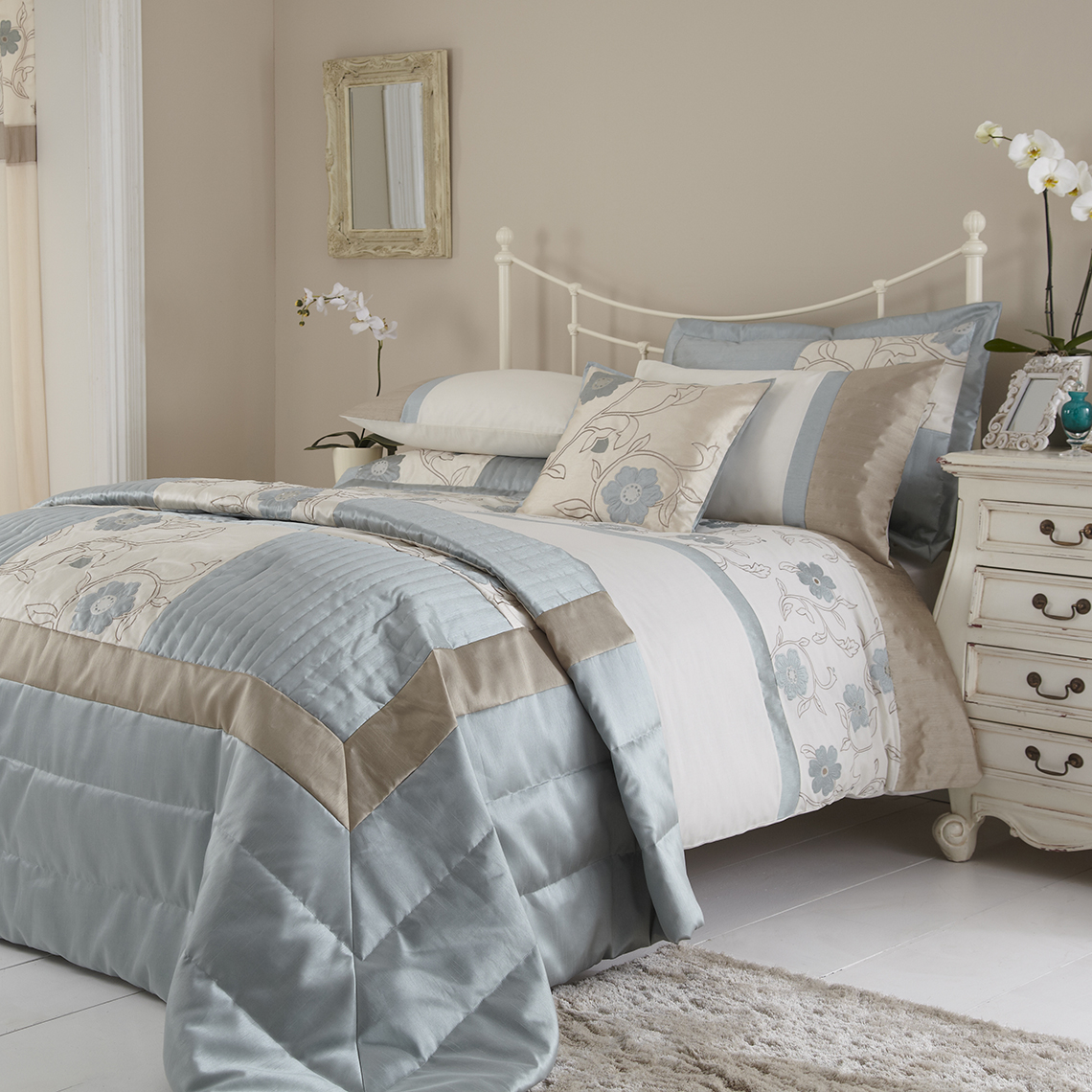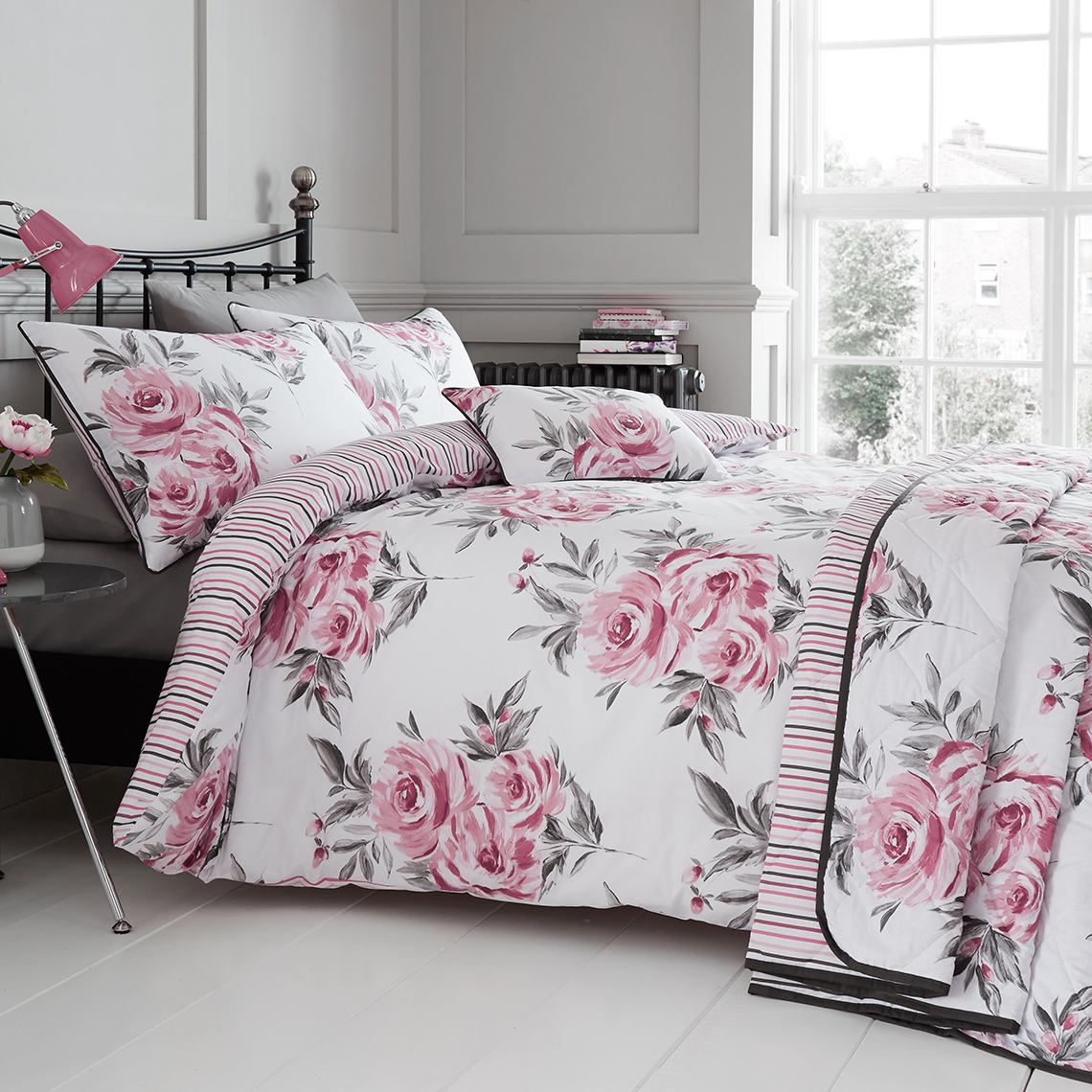 Thread Count
Thread count refers to the number of threads per square inch in the woven fabric of your duvet cover. The higher the thread count, the softer the material. Here at Home Store + More we have carefully selected our duvet covers in terms of thread count, ranging from 200 to 500 thread count - ensuring there is something for everyone.
Allergies
People who are prone to allergic reactions and sensitive to certain types of material should always check the types of duvet covers they are looking for. There are many different types of covers out there, just as there are many different types of allergies. If you are sensitive to certain dyes, fabrics or materials, the best type of duvet for you is the one that has been recommended to you by your doctor.
A duvet with a high cotton content is usually the best type of duvet for those who suffer from allergies as these are often made from the most natural synthetics. Bed linen that is woven quite tightly is more resistant to dust mites and bacteria, so a duvet cover with a high thread count may be what you need.
Many people who suffer from allergies will want to wash their bed linen often, usually every 3-4 weeks, so check that your cover can withstand this - (most duvet covers are machine washable and can withstand many washes).